SPIE student chapter workshop (November 9-11)
Registrations are open
You can sign up with this form. See more information below.
Registrations close on November 2nd.
Info
Right after the Face2Phase conference a 2.5-day School of Physics will take place organised by the SPIE student chapter in Delft. It will take place from Wednesday 9 November in the afternoon until Friday 11 November.
Cost
The event is free of charge.
Who can join?
The workshop is open to all students, also without an SPIE membership. Non-students can also join, as long as you register. (Although in the case we reach the attendance limit, students will be given priority.)
Need graduate school credits?
We can provide an attendance certificate on request after completion of the workshop.
For questions
Reach us at SPIEchapter-tnw@tudelft.nl.
---
Program
Speakers include invited (international) speakers to the conference.
Topics of the lectures include mathematical physics, diffractive imaging and automatic differentiation.
Abstracts for each speaker can be found here.
Program

 

Wednesday Nov 9

EEMCS Faculty, Lecture hall Pi

Thursday Nov 10

EEMCS Faculty, Lecture hall Pi

Friday Nov 11

3mE Faculty, Lecture Hall F

Morning

(Last day of conference)

Prof. Carl Bender
Washington University in St. Louis

9:30-12:30

How to sum a series if it diverges (part 2)

Dr. Stefan Witte
VU/ARCNL

9:30-12:30

I) Imaging with lenses
including non-linear microscopy and coherent imaging methods

II) Imaging without lenses
using coherent diffraction

Break
 
 
 

Afternoon

Prof. Carl Bender
Washington University in St. Louis

14:00-17:00

How to sum a series if it converges (part 1)
 

Prof. Ari Friberg
University of Eastern Finland

14:00-17:00

Geometric Phase and Complementarity
in Vector-Beam Interference, 3D Polarization States, and Plasmon Coherence Engineering

Dr. Yifeng Shao
TU Delft/Utrecht University

14:00-16:00

I) New paradigm for solving inverse problems:
Combining physics knowledge with AI by automatic differentiation

II) Hands-on programming session with TensorFlow
and applications of automatic differentiation

Networking drinks

16:00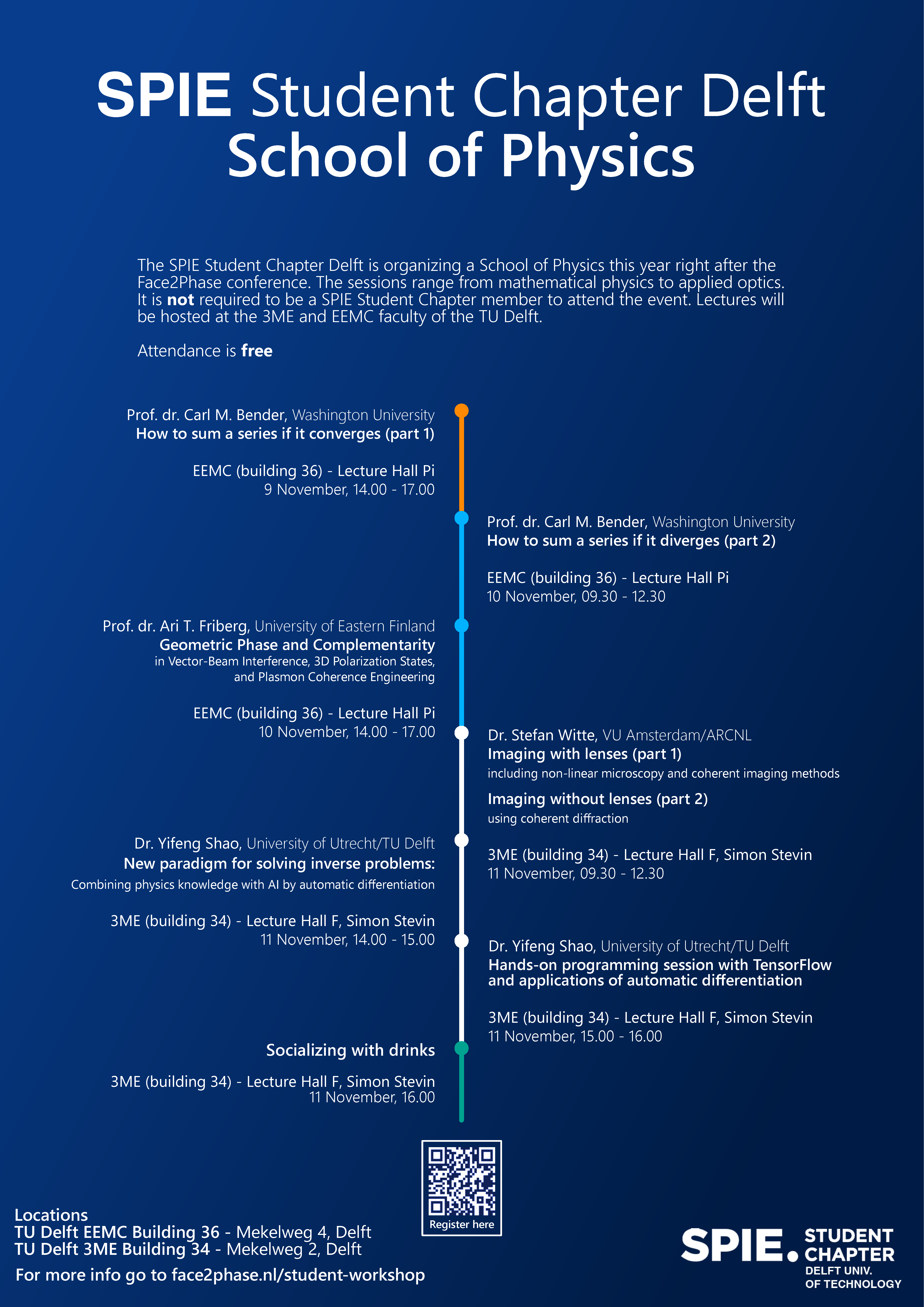 You can find a PDF of the flyer here.
---
Registration
Sign up
To register for the event, please fill out this form. The form closes on November 2nd.
We will send updates via email.
The workshop is open to all students, also if you're not a member of SPIE.
We do recommend joining SPIE as a student, and if you're located in Delft, come join our chapter! A yearly student membership only costs $20.
---
Location
The workshop will take place at the TU Delft, in different lecture halls.
On Wednesday and Thursday: lecture hall Pi of the EEMCS Faculty (EWI, building 36).
On Friday: lecture hall F (Simon Stevin) of the 3mE Faculty (building 34).
---

Face2Phase3: Holography, Tomography, 3D imaging, Phase Retrieval

Registration website for Face2Phase3: Holography, Tomography, 3D imaging, Phase Retrieval
Lidija Nikolicface2phase-tnw@tudelft.nl
Lidija Nikolicface2phase-tnw@tudelft.nlhttps://www.face2phase.nl
2022-11-07
2022-11-09
OfflineEventAttendanceMode
EventScheduled
Face2Phase3: Holography, Tomography, 3D imaging, Phase RetrievalFace2Phase3: Holography, Tomography, 3D imaging, Phase Retrieval0.00EUROnlineOnly2019-01-01T00:00:00Z
Science Center DelftScience Center DelftMijnbouwstraat 120 2628RX Delft Netherlands